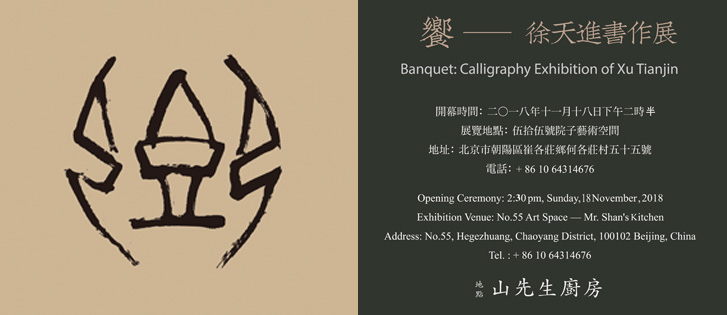 饗,鄉人飲酒也~《說文》
民人以食爲天~《史記 郦生陸賈列傳》
吃喝是大事。
于人,于動物都一樣。
吃飽肚子是天大的事。
如何吃好,怎樣好吃,則是吃飽以後的閑事。
如何喝好,怎樣好喝,也是喝足之後的趣事。
人之一生,總離不開吃吃喝喝。
書寫也是天大的事,
何以見得,倉頡造字,驚了天地,泣了鬼神。
如何寫好,怎樣好寫,則是會寫以後生出的余事
人之一生,難免要塗塗寫寫。
人之所以爲人,是因爲人不會只滿足于大事,而總會千方百計的要在大事之外生出
許多的閑事、余事,趣事。
對吃喝的種種追求和講究,曆千百年而不衰,從材料到烹饪,從器皿到空間,從吃相到儀軌,可書者夥也。
對書寫的種種追求和講究,也曆千百年而不衰,從媒材到書體,從內容到形式,從隨意到法度,不一而足。
等而觀之,吃喝和書寫實在是同樣的大事。兩者孰輕孰重?難分伯仲。把吃喝和書寫兩件大事變成閑事、余事,想想倒也是趣事。
劉山先生于吃喝之大事情有獨鍾,以至有構築"山先生廚房"之夢想,如同他對無書的"山先生書房"的臆想一般。而我則于書寫稍有所愛,樂意和他共同成就這一趣事。
究竟有趣還是無趣,只能是由食客和看客們去裁斷了。
文 / 徐天進
Xiǎng(饗) is defined as a banquet to entertain villagers with drinks according to Shuowen Jiezi.
Food is the paramount necessity of the people, which was selected from Records of the Grand Historian: Ranked Biography of Li Shiqi and Lu Gu.
Eating and drinking is a big deal to both people and animals. Having food to eat is of paramount importance. Only when we have enough to eat, will it become apleasure to think about how to eat well and cook well. It is also a pleasure tothink about how to drink well and make the drink taste better after we have got something to drink. After all, nobody can live without eating and drinking.
Calligraphy isalso a big deal. Legend has it that when Cang Jie invented the Chinesecharacters, the deities and ghosts cried and the sky rained millet. Only whenwe are able to write can we start to consider how to write well and what towrite with smoothly. We are destined to write and rewrite in our lifetime.
It is only human nature that we are not satisfied with the big deal. Instead, we always try togo after artistic pursuits or something fun by all means possible.
The past thousands of years have witnessed the development of human's pursuit of diet ranging froming redients to culinary skills, from cook ware and dining space, and from tablemanners to food cultures – so many things to write about.
The same thing also applies to calligraphy with its focus shifting between different aspects in hundreds of years, from writing materials to calligraphic styles, from contentto form, and from a spontaneous overflow of mind to the adoption of calligraphic techniques.
Thus, it is fairto say that diet and calligraphy are of equal importance. In this sense, it ishard to decide which one is more important. Indeed, it is an enjoyment to developdiet and calligraphy into leisure pursuits.
Mr. Liu Shan's affection for eating and drinking runs so deep that he dreams of establishing "ScholarShan's Kitchen" just like the bookless "Scholar Shan's Study" he conceived. Asa calligraphy lover, I am delighted to join him to help make his pleasant dreamcome true.
Whether or not it is a pleasure to the diner and the reader, it is up to them to have the finalsay.
Writeen by XU Tianjin
徐天進
1958年生于新疆烏魯木齊。現任北京大學考古文博學院教授,博士生導師。主要從事田野考古、商周考古的教學和科研工作。曾先後策劃"吉金鑄國史——周原出土西周青銅器精粹"、"花舞大唐春——何家村遺寶精粹"、"權力與信仰——良渚遺址群考古特展"、"鼎盛中華——中國鼎文化"等展覽。
主要展覽:
2017 《自適》徐天進書法個展,永康博物館;
2018 《等觀》徐天進書法個展,山西博物院;
Xu Tianjin
Xu Tianjin,born in Urumchi,Xinjiang in 1958.Professor and doctoral tutor in the School of Archaeology and Museology, Peking University, is mainly engaged in field archaeology and the teaching and research on archaeology in Shang and Zhou Dynasties. He has curated a number of exhibitions as follows:
Bronze History—Selection of Western Zhou Bronzes Excavated in Zhouyuan;
Treasures from Tang Dynasty—Selection of Hejia Village Legacy;
Power and Belief—Liangzhu Cultural Relics Archaeological Show;
Splendid China—the Ding Culture in China.
Self-Content, Xu Tianjin Solo Calligraphy Exhibition
Equal View, Xu Tianjin Solo Calligraphy Exhibition